TARRANT COUNTY COUNCIL ON FAMILY VIOLENCE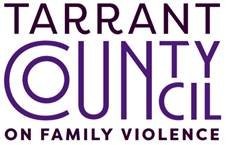 Welcome to the Tarrant County Council on Family Violence (TCCFV) webpage.
Mission Statement
To develop and promote a comprehensive and effective community effort to reduce family violence in Tarrant County. 
The Council achieves our Mission by…
Having a focus solely on family violence issues,
Offering a collective voice of partner agencies,
Providing community-wide trainings, forums, and summits concerning domestic violence,
Enhancing membership's awareness of resources through bi-monthly meetings.

Meetings are the first Wednesday of odd months at 3 PM.
For more information on how to join the council,
Please email the membership chair: Lori L. Clarida at LLClarida@TarrantCounty.com