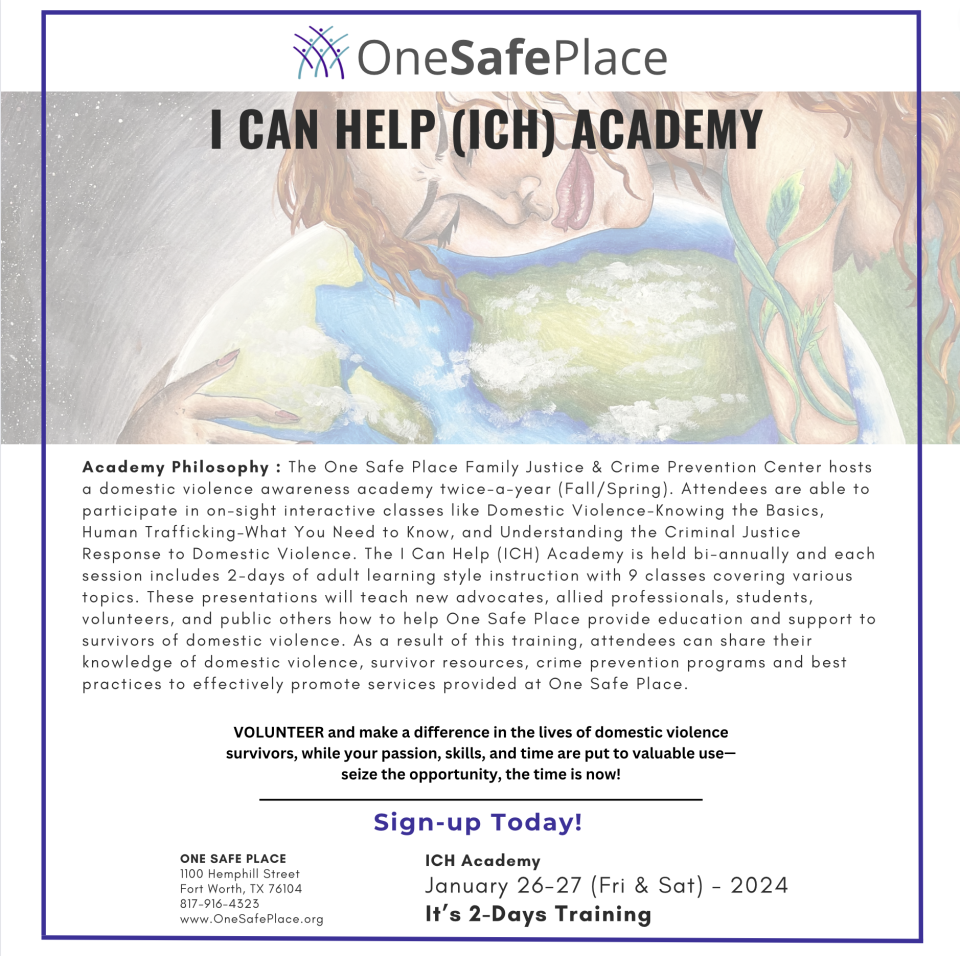 Introducing the "Volunteer Training Academy
Welcome to the I Can Help Academy! We are thrilled to introduce you to our comprehensive volunteer training and education program known as the Volunteer Training Academy. Our academy is thoughtfully designed to empower individuals like yourself with the essential skills and knowledge required to make a positive impact within your community. We invite you to embark on this transformative journey with us and emerge as a certified volunteer, ready to effect change today!
Reserve Your Spot! To ensure your participation in our upcoming training session, please click on the "Register Here" tab located below the academy flyer. It's important to note that each session has a limited capacity of 20 participants, so we encourage you to secure your spot well in advance.
Day One:
- History & National Presence
- Facility Tour
- Impacts of Violence on Children
- Domestic Violence - Knowing The Basics
- Human Trafficking
Day Two:
- Customer Service Model
- Non-Residential vs. Shelter Services
- Criminal Justice Response to Domestic Violence
- Community Outreach Practical
Responsibilities & Requirements
To become an I Can Help volunteer, certain responsibilities and requirements must be met:
1. Attend the ICH Academy: Commit to participating in our training program to acquire the essential knowledge and skills for effective volunteering.
2. Complete a Volunteer Application: Fill out our volunteer application form, providing us with crucial information about your background and interests.
3. Successfully Pass a Criminal Background Check: As part of our commitment to the safety and well-being of our community, all volunteers are required to pass a thorough criminal background check.
Register Now and Make a Difference!
⬇️ REGISTER HERE ⬇️
HOUSING PEOPLE & PETS IN CRISIS